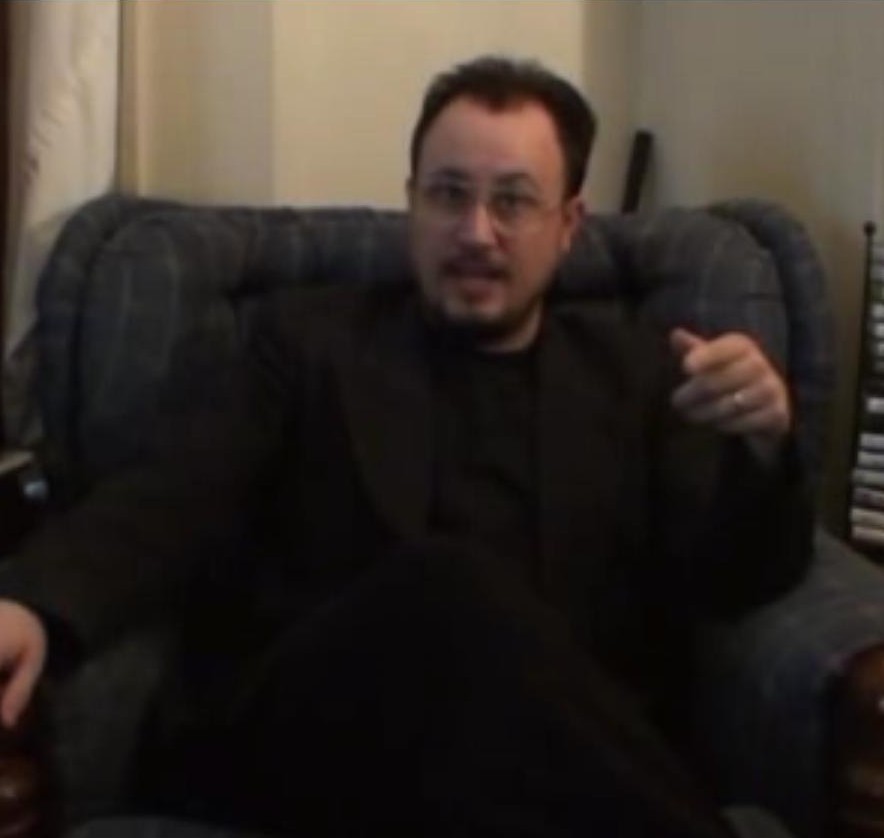 There is the
Irate Gamer Sucks blog
and now there is the Cinema Snob Sucks Blog so brace yourself for the creation of another sucks blog. The main reason for me doing this is because the Cinema Snob hit me with copyright on YouTube for simply uploading his video's to allow people there to view them as certain people cannot or have trouble watching them on blip. That includes me and many others but blip really sucks and the main reason why internet reviewers use it is to make money but that's not what it is all about but many see it that way especially TGWTG which are affiliated with Brad Jones (Child Molester Extraordinaire) and his Jimmy Savile ways.We all now know the real reason he goes to those food fairs and carnivals.
Just see the resemblance, like father like son and Josef Fritzl would agree. I interviewed him myself and he said he was in touch with Cinema Snob if you know what I mean. A whole new pedio love triangle revealed only on Cinema Snob Sucks Blog. Stay tuned for more on this breaking internet story.
Here is just a couple of reasons why I think Cinema Snob Sucks
First off he deletes comments on his own site like a Nazi, probably because he's been watching too much Ilsa, She Wolf of the SS. Maybe one two Nazi exploitation film been too much for him and now there's a rumor that he reads Mein Kampf before he goes to sleep everyday. Scary stuff I know because someone may have to make a shitty American History X rip off someday just to let the world know.
No wonder why he always reviews Nazi moves and references Hitler. Im starting to think that he has saw that tv movie where Robert Carlyle plays Hitler and thought it was a good idea.
Second he thinks he is a good actor when he is really pretty terrible, I mean really have you guys saw paranoia because I have and it sucked badly. People say he took stuff from American Psycho (a good movie) but he said he wrote the script before he saw the film but then again why does he say "take that Patrick Bateman" in the behind the scenes. Makes you wonder if he is lying. His movies/video's are really an orgy of trashy, low quality 500 bit rate pixelated videos and AVGN's child films are probably better than the shit he pumps out.
Third he only puts his video's on blip so he can sit on his fat ass and receive money by making his viewers watch advertisements which they can't skip unlike YouTube where you can and are not forced to watch them or even watch another ad at the halfway mark. It's not like he even tries to upload them elsewhere and when someone else does he forces them to take them down so they cannot take away from his income.
Fourth he is an ass in real life and pushes away his friends like when that event happened with Jerrid he just more or less told him to buzz off and your not my friend anymore when they were friends for so long but that doesn't count for anything to him as even if your friends for more than 6 years he'll just throw you away like a dirty pair of underwear. The may be back as friends now but we all know what really happened, Brad's wife caught Brad, Jerrid and Jake playing poker but we all really know what they were doing. Shocking indeed and so are these pictures.
I think she wants a divorce and jerrid didn't take the bad news too well as they won't be able to play poker any more
Maybe this is the real reason why Jillian left him as she couldn't stand him watching porn all day and these late night poker games he's been having with the boys. This is really shocking harsh news that has only been recently found out, my sources tell me that there are more juicy details that were too extreme to be put on this blog and also one image which could only appear censored as the bottom half of the image has been cut off to hide who is below.
Hey wait were's brad, oh oh no wonder why they're both smiling.
Maybe they shouldn't have taken that Kodak moment.
Fifth alot of his video's appear to be how can I say this, NOT FUNNY. I mean can't he do better, it's not like he gets his jokes from these guys. No but seriously I didn't even laugh once at any of his recent videos as possibly he's lost his touch like Irate Gamer after his first video and so ends the first entry in the Cinema Snob Sucks Blog.
More on this at a later date on the seedy underworld of the REAL Brad Jones.